On the 12th of September 1793, a post captain age 35 meets Emma Hamilton, who was 28 years old. Emma was married to Sir William Hamilton.

Viscount Nelson fell completely in love with the beautiful elegant and glamorous Emma. The hero of Trafalgar makes a remarkable historic story, with a very public affair included. There is also a connection between Nelson and the Canary Island Tenerife.

On the 22nd July 1797 Admiral Horatio Nelson launched an attack on the Spanish port city of Santa Cruz de Tenerife. It was at this battle that Nelson lost part of his right arm. Nelson's attack was defeated, and he was badly wounded. He returned to England, and later became involved with Emma Hamilton in a love affair that made history.

Nelsons victory in 1798 over the French fleet in "The Battle of the Nile" bought him and Emma together for the second time. Emma and her husband had been fearful Naples would be invaded by French troops, so when they heard of Nelsons victory they felt strongly that he and his fleet should come to Naples.

Emma wrote Nelson a letter full of admiration. Funnily enough, he had also written a letter to his wife fanny. In this letter he spoke very highly about the young Emma. In September Emma made a huge fuss in welcoming Horatio Nelson into her home. Emma's husband was also delighted by the presence of this hero Nelson, who was in awe of his wife Emma. The respect and admiration between Sir William, Emma's husband, and Nelson remained throughout this fascinating story.

By the end of 1798 a French invasion seemed inevitable. Emma and her husband, the Neapolitan Royal family, foreign travellers, and most aristocrats of Naples fled to the safety of the island of Sicily.

Emma and her husband resettled in Palermo, where they rented a house together with Nelson and some other English friends. A close relationship had developed between Emma and Nelson, and the English press started to speculate about this.

At this point Nelsons wife became concerned about rumours that the couple had such a close friendship. She decided to visit her husband, but he was very cold towards her as by this time he was in love with Emma. The beautiful Emma had captured all his attentions, and he did not want to see his wife.
Horatio Nelson

Both Emma and Nelson had been faithful in their marriages, but perhaps they had married the wrong people. Their relationships had not given them the buzz and zest for life that they both felt when they were together. When Emma and Nelson were together the energy was electric and they complimented each other in a way that probably was very enviable to the outside world.

When two people meet and the energies between them are strong and passionate, this is something special. Unbeknown to Emma and Nelson they were among many wolf's who would eventually bring them both down. Nelson was a dashing hero, and she had a glamorous career in modelling items of fashion that she had designed herself.

Emma would entertain guests by acting out little plays, and she had a beautiful singing voice. With both of them being famous in their own right, this was definitely part of the attraction they felt for each other.

Nelson was eventually called back to Britain. Nelson, Emma and her husband William Hamilton travelled together and set up home in Piccadilly London. On the 31st of January 1801 Emma gave birth to a baby girl they named Horatia, the child was Nelsons.

It was such an unusual situation that the press had a hay day with reporting this scandal. Nelson and Emma had become the two most famous Britain's in the World. They lived openly, obviously very much in love, and under the same roof as Emma's husband. He was now retired, his health was not very good, and yet he seemed to support the affair between his wife and Nelson.

People became fascinated with the story of Nelson and Emma. The press were reporting on them all the time, and the public became hungry for Emma to set the Fashion trends. They wanted to read how she decorated her home, and what dinner party menus she organised. Emma had become like Princess Diana, and the press were reporting her every move. However the fairy tale was not going to end well.

Emma put on a lot of weight, and around this time she turned down an offer to sing in Madrid for the Royal opera. It would appear her glamorous days were over. Nelson had shown he was unhappy with the social life Emma had always craved, so she turned her attentions on their home.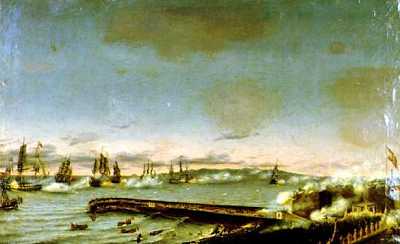 Ataque británico en Santa Cruz de Tenerife

The Admiralty were very aware of the scandalous affair between Nelson and Emma, and they made a decision to send Nelson back to sea to fight in the Napoleonic Wars. When he left, Emma was pregnant again, another baby girl was born only to survive a few weeks. The death of the baby, along with missing Nelson caused Emma to go downhill. She started gambling and spending too much money.

Her husband Sir William had now died and at long last she was free to marry the love of her life, but it was not to be. On the 21st of October 1805 Nelson was badly wounded in The Battle of Trafalgar and he died. Back in London Emma obviously took this news very badly, it is recalled she did not speak or cry for ten hours such was the shock to her of losing Nelson.

Nelson had left instructions for the Government to take care of Emma, in spite of Nelsons status this was ignored and Emma got into debt. On this note we should have empathy for Emma who tried to keep the home Nelson had left to her as a monument to him.

Her love and admiration to Nelson's memory caused Emma to spend a year in a virtual debtor's prison. There was no one to turn to for help, with her daughter she fled to France, where she ended up living in Calais and turned to drink.

The once glamorous, beautiful woman who was adored and loved very much by the national hero Nelson, was now living in poverty. Emma died in January 1815 from amoebic dysentery.

Nelsons daughter Horatia married Rev. Philip Ward and had ten children. Horatia led a quiet normal life, and never publicly recognised she was indeed the daughter of the two most famous Britain's of their time.