Jubo Jubogha was a merchant prince, and founder of Opobo state which is in the Southern area of Nigeria. At the age of twelve he was sold as a slave. Jubo had good business sense at an early age, and worked his way out of slavery. Jubo became known as Ja- Ja for his dealings with the Europeans and British. He arrived in Opobo in 1870.
Jubo became involved in palm oil trading. He started a trading post in the town which he called The Kingdom of Opobo. The European traders called him King Jaja. A war started between Jubo and the Annang and Ibibio people who lived on the Southeast coast of Nigeria. He had never got on with them, and when he made himself the middle man for the palm oil trading, he asked the Annang and Ibibio people to stop dealing with the Europeans. This is when they fell out with Jubo, he was then exiled to the West Indies.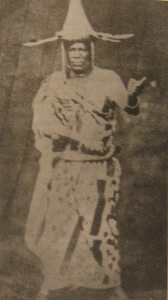 Jaja of Opobo

In 1881 Jubo was granted permission to return to Opobo. While travelling back he died, it is thought he was poisoned with a cup of tea. Following his exile and death the state of Opobo lost its power.

Somehow his body was shipped to Tenerife in the Canary Islands and he was buried there. His people were so angry about this and the exile they demanded the body of their king was returned to Opobo. Jubo was exhumed and returned to his people who had never given up hope that one day their beloved king would come back to them.

In his memory his people spent two years in mourning and held a special ceremony so that Jubo would be remembered forever.

Tenerife has had more than its fair share of being involved with historic events over the years. Some very interesting people have visited the Island or their story has involved the Island in some way like King Jaja of Opobo.