On arrival in El Médano I feel I have left the hussel and bustle of Los Cristianos behind. The seafront of El Médano has a lot to offer, combined with a more relaxed feeling than that of Los Cristianos and other holiday resorts on Tenerife.
On Saturday morning there is a market in the square, the stalls are bright and colourful selling handmade jewellery, leather goods, clothes, plants, and lots more. I bought a leather belt for six euros. On this occasion I did not barter, as the seller cut the belt to my size, a service I have not come across in the UK! The Indian stall selling dream catchers and relaxing music is worth a look.
El Médano has a Spanish feel to it, with some of the best kept golden sand beaches along this stretch of the coastline. The seafront hosts most of the restaurants and café bars. There are squares where the Spanish children play. Along the beach walls are small traders selling their goods. In particular one guy is painting on glass, another trader has unusual jewellery. Don't overlook these small traders with their handmade goods. The side streets off the square by the beach also have a good selection of places to eat, and some interesting boutiques .It is nice to stroll up these side streets in the evenings. And remember if the locals are eating in the restaurants, it means they are good.
If you walk along the seafront towards Montaña Roja you will see the windsurfers. There is a small surfing shop, and café bar this is worth a stop. Flashpoint bar will serve you a cold beer, and good food. They have a bohemian lounge area, where you can relax with a coffee or use the internet. My favourite is the apple strudel served with ice cream and cream along with some tea. All the different teas are served in silver pots on small silver trays. A bit of the Ritz! Combined with beach combers.
| | |
| --- | --- |
| | |
| El Medano Cafes Tenerife | El Medano Seafront Tenerife |
Take a look at our photos of El Medano town and beaches
Keep walking and you can make your way across to another beach the other side of Montaña Roja. This is a beautiful beach but be aware of bare bottoms! As this is a Nudist beach, although used by families as well, most do have their swimwear on. It is a nice walk across to the beach; make sure you take plenty of water with you, as this particular beach has no bars. A guy selling water and fruits goes along the beach at certain times.
The hub of El Médano is definitely along the seafront, with the best natural sand beaches on the island. The town will offer you what you need in the way of supermarkets, and general shopping.
For accommodation in El Medano you can rent an apartment or stay at the Hotel El Médano this is right on the sea front. If you are on a budget there is a Hostel called Carel. This is situated near to the seafront. Just be aware the weekends can be a bit noisy, but overall the rooms are cleaned daily with fresh towels, and bathroom toiletries provided. Some rooms have a fridge, and there are safety deposit boxes. The weather in El Medano is good, but well known for the long hard winds which howl along this South-eastern point, so do pack a jumper in the winter months for the cool evenings! But you will enjoy this delightful place.
Written by Jane Goossens.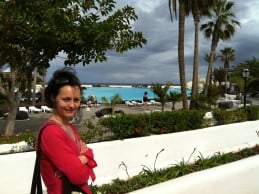 Jane the Tourist