Jane the Tourist Opinion.
Candelaria is a coastal town about twelve miles south of Santa Cruz. This delightful traditional fishing town has an unusual past, which I found very interesting. I am staying just outside Candelaria at Las Calletillas at the Hotel Catalonia Punta del Rey. This hotel has nostalgia about it, and feels like it is lost back in time. There is a very large dining area, this looks out onto a rock garden with a pond and waterfall.
We booked a room that came with buffet breakfast, so I can only comment on this. Room clean and comfortable, for breakfast I had fruit juice, bacon, eggs, tomato, beans, and sauté potatoes, followed by coffee, croissants, little pastries and fruit. This was just my choice, there was so much more! We only had a few nights here & enjoyed.
However the resort is low-key and evening entertainment would be limited to the local Spanish restaurants or what was provided in the Hotel. Last night we went to the Show bar, it reminded me of a ball room. Light entertainment is put on every night, and there is dancing to suit all age groups. Which brings me to say the age group here is older, that is fine by me as they know how to behave themselves! The price will vary here depending on how and when you book. We booked the same day as we arrived, which gave us a room with buffet breakfast for 50 Euros a night. If you just want to laze around during the day there is a pool here. Or you can take a stroll along the promenade, and this is what I did.
The promenade goes right along to the main town of Candelaria, there are plenty of cafes, bars along the way if you want to take a break. Once we reached candelaria we had our picnic lunch on the beach I bought mine (the hotel does provide a packed lunch if you want) the main focal point of Candelaria is the church, which is characterised by a tall bell-tower. It is worth having a look inside the church. Along the waterfront stand nine outsize statues. These wild looking men are Guanche chiefs. It is Guanche society that I want to tell you about. If you have any interest in history or Tenerife then read on.
When European exploration of the islands took place in the 14th century, they found these primitive people living here. The guanches were unusualy tall, blonde and blue-eyed. Mystery surrounds how they got to the canary Islands, as they appear to have no knowledge of boat building.Their origin is not certain although most experts believe they were from North Africa. They had a primitive way of life, most lived in caves, high status Guanches had stone houses with straw roofs. The women played a full part in society, and made pots that were highly decorated. They reared cattle and grew crops.
Clothing was made from sheep or goatskins. These animals also provided them with meat, cheese and milk. Their diet also consisted of fish, fruit and gofio, a roasted cereal flour. They worshiped a god, who was closely linked with the sun, hell was believed to be in the Teide the volcano! The Guanches mummified their dead, this treatment was mostly for chiefs and nobles. They were laid out in distant burial caves. Some examples have survived to this day. How they learned these techniques and why they adopted them is a mystery just like the Guanche people themselves.
Written by Jane Goossens.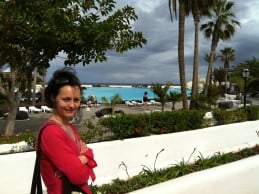 Jane the Tourist
Candelaria 5 Day Weather Forecast