Las Caletillas Tenerife Review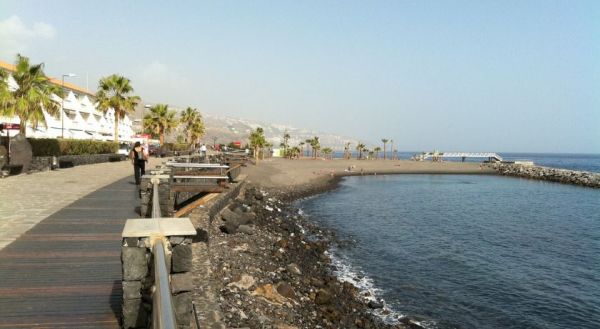 Las Caletillas is a Spanish town through and through. It is a proper Spanish town and only has a couple of hotels for tourists. This means you are truly away from the masses of some of the other resorts, so if you are looking for something with genuine Spanish feel this could be the place for you.
Las Caletillas Nightlife
As the town is a real Spanish one there is no entertainment as such outside of what the hotels may offer. The main street runs parallel to the beach promiade a bit up the hill; here you will find more Spanish bars and restaurants and some fine shops and supermarkets. There are also some trendy bars.
There are plenty of restaurants along the sea front promenade, offering genuine Spanish fare as well as italian and pizza restuarants. No 'International restaurants', British bars, or restaurant chains here. Bring your Spanish phrase book as little English is spoken. The restaurants will offer you a genuine Spanish experience with fantastic food, and all will be very welcoming and helpful as they are truly proud of the food on offer.
Las Caletillas Beaches
The beach is well cared for and is made up of black volcanic sand and large pebbles. There are also raised manmade beach areas with soft volcanic shingle and wooden decking sunbathing areas surrounded by palm trees. There are also small manmade coves where you can swim in the sea.
There is a lovely palm tree lined promenade that runs from the Tenerife Tour Hotel for about 1km towards Calandaria, were you can take a leisurely stroll and perhaps stop for lunch or a glass of wine or coffee.
Las Caletillas Attractions
Las Caletillas is part of Candelaria where you can walk to or catch a bus. Candelaria is a pleasant town where the focus is the church on the sea front. It is here that an annual pilgrimage is held to the virgin de Candelaria. The object of the pilgrimage is a statute of the Virgin Mary that was washed ashore during the times of the Guanches.
Where is Las Caletillas
Las Caletillas is approximately 60km by road from the resorts of Los Cristianos and Las Americas, 17km from the capital city Santa Cruz, and 46 km from the northern resort of Puerto de la Cruz.
Tenerife South Airport to Las Caletillas Transfer Times
The distance from Tenerife Reina Sophia Airport to Las Caletillas is approximately 46km by road that takes about 30 minutes. The taxi fare to Las Caletillas from Tenerife south airport will cost about 65 euros. The bus route 111 going to Santa Cruz will take you from Tenerife south airport to Las Caletillas.
Las Caletillas Deals
Additional Info
Airport Transfer Time:

Distance from Airport:

Direct bus from airport:

Taxi fare from airport:

Tenerife Resorts:

More Tenerife Resort Reviews
Las Caletillas Photo Gallery

Photos of Las Caletillas on the fabulous island of Tenerife showing the sea front and promenade with its peaceful well kept black sand beaches and…

>
Find out more
Jane the Tourist in Candelaria

Jane the Tourist Opinion. Candelaria is a coastal town about twelve miles south of Santa Cruz. This delightful traditional fishing town has an unusual past,…

>
Find out more