Located just off the Northern Atlantic coast of Africa, the Canary Islands are a popular vacation destination due to the pleasant climate and beautiful coastlines. Tenerife in particular has a unique blend of weather, culture, and history that meshes together to form some of the most delicious and original cuisine in the world. The food and drink in Tenerife is something that shouldn't be missed, although sometimes it's necessary to get away from some of the more built up, touristy locations to really get a taste of the local dishes.

Weather and History

The weather in Tenerife is generally pleasant all year round, with an average temperature of 15C in winter and 24C in summer; however, it can get a lot hotter than this. The main advantage of such a warm climate is that fruit and vegetables can be cultivated all year long. With this in mind, Tenerife's dishes are loaded with watercress, green beans, olives, zucchinis, and tomatoes, as well as tropical fruits like papaya, guava, mangos, bananas, and avocados. These are all used heavily in the island's typical dishes which helps to ensure that each restaurant's menu is colourful and bursting with flavour.

Seafood

No island cuisine would be complete without a healthy portion of freshly caught seafood. On this note, tourists can expect to have the option to sample fresh fish such as tuna and mackerel, as well as crab, lobster, calamari and eel; much of it caught that very same day. On top of that, several of the restaurants, such as the La Torre del Mirador sport live fish tanks that allow visitors to hand pick their meal. One of the local favourites is called Cazuela de Pescado, which is fresh caught fish in a casserole along with peppers, onions, potatoes, and tomatoes. It is hearty and filling, perfect after a long day exploring the city.

Other Popular Dishes

The blend of cultures on the island includes European, Spanish, African, and Latin American, each contributing to the unique flavour of the local dishes. This means that there will be a dish to suit every taste. One popular ingredient is gofio, which is a type of flour made from roasted grains. Gofio is a staple of the Canary Islands and is used in everything from stews to cereals and even ice creams. Other popular options include Papas Arrugadas which are potatoes that have been boiled and salted while still in their skin; Potaje de Berros which is a hot pot of chickpeas; and Tapas which is a popular Spanish light dish that is found everywhere on Tenerife.

Beer and Wine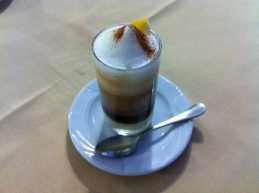 Barraquito
What vacation would be complete without a few glasses of local national beer or vintage wine? The national beer of Tenerife is named Dorada, and the only other place this beer can be found is Gran Canaria, the neighboring island. All Dorada beer is brewed on the island. Alternatively, Gran Canaria's own beer is called Tropical and is
usually available in bars in Tenerife. On a side note, Tenerife hosts five major wine producing regions, so like the beer, all the wine is actually produced locally. Of course, there are the traditional beverages available from around the world as well.

Island food always seems to have a spice and flavour all of its own, no matter what part of the world it's in. However, the food and drink in Tenerife is by far one of the best cultural experiences out there.