Taoro Park is located on the Taoro mountain, formerly called Monte Miseria, because it was 'badlands' (malpais), some of which remains preserved today. With a panoramic view of the city of Puerto de la Cruz in north Tenerife, comprising about 100,000 square metres (24.7 acres) of gardens, paths, lookout points, illuminated fountains and waterfalls. It also features a children's playground, a bandstand with a restaurant, a bar and a terrace area.
There is a car park here and a stairway up the mountain from the town for the more energetic.
Taoro Park is divided into three main areas: La Atalaya (meaning The Watchtower), the Camino de La Sortija path and the Taoro Gardens. La Atalaya houses the Dulce Maria Loynaz lookout point. The area of La Sortija is very popular among people who like to exercise out of doors. Taoro Park also houses what used to be the Gran Hotel Taoro and the English Anglican Church. The hotel opened in 1890 and was one of the Island's most important establishments, accommodating such renowned guests as Agatha Christie.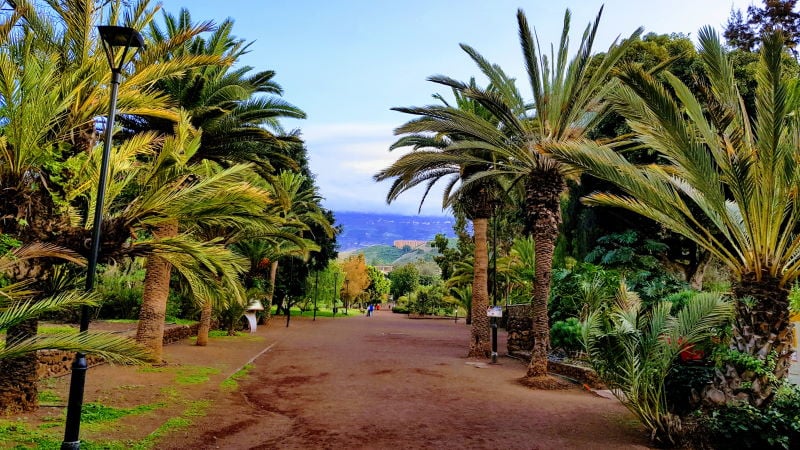 Close by are other places of interest, such as the English Library, established in 1903 and the home to over 10,000 books and over 4,000 DVDs, where British ex-pats, residents and visitors meet regularly.
The Anglican Church of All Saints, an early English gothic style building built in 1891, is in Parque Taoro. Being over 130 years old, it is the oldest Anglican church in Spain. In the church grounds is a memorial rose garden dedicated to the 146 passengers and crew who lost their lives on 25th April 1980 when Dan-Air flight 1008 from Manchester to Tenerife North airport of Los Rodeos crashed nearby in the forest of La Esperanza. On the first Saturday of each month, a flea market is held there, attracting many people eager to find curious objects.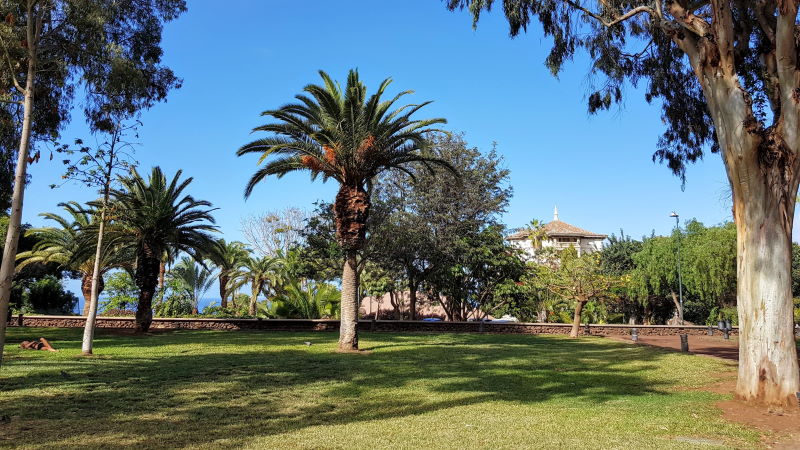 Parque de la Sortija was created as leisure facilities for the Hotel Taoro guests but is now a 40.000ms public park with themed garden areas such as the French Garden and the Canary Islands Garden, including different varieties of palm trees, Indian laurels, tabaibas and dragon trees. The park is named after the 'Camino de la Sortija' (Road of the Rings), which owes its name to the old horse ring races that used to be organised there. There is also a bar-cafeteria with a children's play area.
The gardens of La Atalaya form the lushest and best-kept part of the park, with pleasant paths and stairways surrounded by palm trees, gardens and subtropical plants, with fountains and waterfalls, as well as the "Dulce María Loynaz" viewpoint, children's playgrounds, terraces and ceramic murals. At the top is the Taoro Bar Restuarant, where you can enjoy a drink, lunch and diner overlooking Puerto de la Cruz.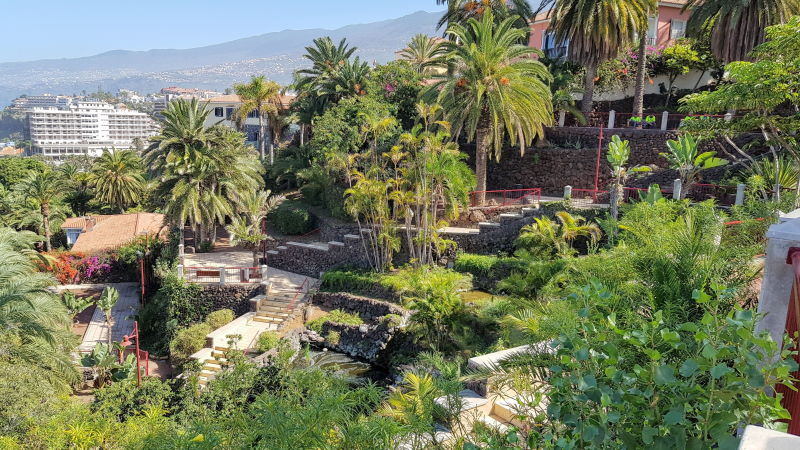 Read our Puerto de la Cruz review