Jane the Tourist Opinion.
I return to Golf del Sur, a resort I have stayed in many times. I am staying at The Amarilla Golf & Country Club, which has a superb Oceanside setting. This eighteen hole championship golf course attracts a lot of keen golfers from all over Europe. On my last visit here I did use the facilities to learn the game. This time I am here to work and I prefer to stay at the club, which is just outside the resort as I can easily walk down into the resort in about ten minutes.
As you walk down you will see the Marina. It is nice to stroll around the Marina; at the end is a roof top bar and a bright yellow submarine that will take you into the depths to explore sea life. Walking up again from the Marina you will see The Aqumarina Hotel to your left. I can only comment on the pleasant bar area and the Champagne cocktails!
On a Friday morning there is a small market in the Hotel car park and it is worth a look. Walking along there are a few restaurants, and the local Irish pub 'The Wild Geese'. I popped in the other evening, there was a good atmosphere, and friendly staff. They did a draw to win a rugby ball, and we won it! Most evenings they have live music, you can get typical pub food here.
Price wise you are in a high tourist area so not cheap, which brings me to say the supermarket by the pub is very expensive. I just bought water, and purchased other supplies at San Blas (the main square further on).
| | |
| --- | --- |
| | |
| Golf del Sur Beach | San Blas, Golf del Sur |
Opposite the pub you can walk down to the seafront, where there is a selection of restaurants. My favourite is the Sakura, I like to sit up at the Teppan oven and watch my food being cooked, and Chef doing a few tricks. I finished off with Japanese fried Ice cream, delicious. This is an experience, and you will pay for it.
As you walk down to the restaurants, to the left there is a venue called the Showbar. This has different acts performing every night. We chose to go when the Temptations tribute where singing there and we can recommend as they were very good.
I walked along the seafront to San Blas, a coastal walk I enjoy. There are a few small beaches here made up of black volcanic sand. I have noticed most people are sunbathing around the pools here. I reach San Blas square. This sadly has little to offer now, as many places have closed, I expect due to the recession. There is the main supermarket, bank, some restaurants, bars, and a few shops left.
From the square I walk across to Los Abrigos, which is a small fishing village. There are some good fish restaurants, and a fairly laid back atmosphere, with a bit more of a Spanish ambiance than that of its neighbour San Blas.
If you want to visit other resorts, there is a bus service here, and we have used it to go to Las Galletas. There is not much to see in the town of Las Galletas. Head to the seafront, where there are some good inexpensive Spanish restaurants, and a small marina. This is a place to relax and enjoy a good meal. We had a nice afternoon there.
Written by Jane Goossens.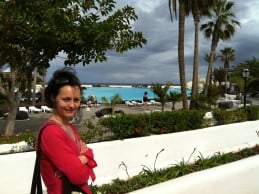 Jane the Tourist