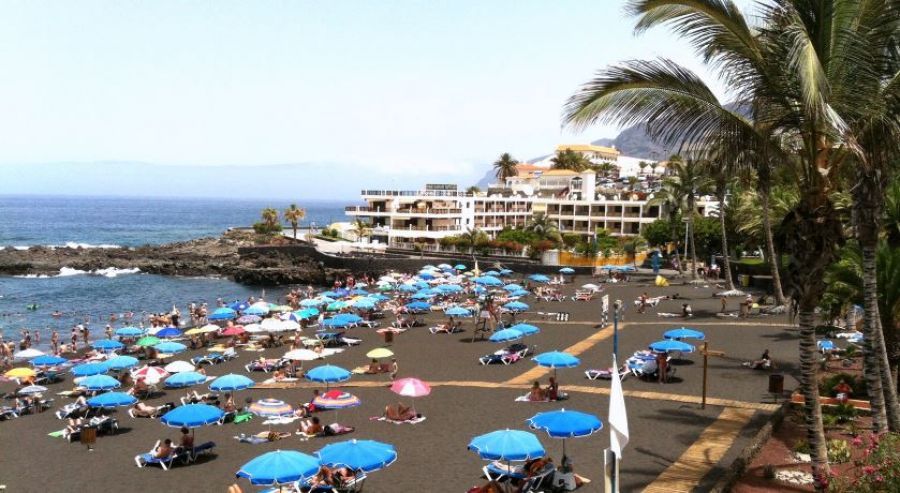 Puerto de Santiago Tenerife is a small low key beach resort, good for families and couples looking for a quiet holiday, with tasteful villas, apartments and hotels set behind the beach. Puerto de Santiago does not set out to appeal to the mass tourist trade of the larger resorts such as Playa de las Americas further south.
Puerto de Santiago merges with Los Gigantes to the north, which is a 20 minute walk away over the cliffs, and Playa de Arena to the south. If you don't fancy the 20 minute walk there are reliable bus services running between the resort centres. Los Giganties is another upmarket resort that gets its name from the huge cliffs that tower over the resort.
Puerto de Santiago Beaches
Puerto de Santiago has a very small beach, Playa de Santiago, of black sand with basic facilities. However, one of the best beaches on this part of the coast is a short walk away at Playa la Arena, the beach is made of exotic black sand and is every bit as good as golden sand.
This beach has been awarded the Blue Flag for water quality and cleanliness every year since 1989. This part of the coast is otherwise mainly volcanic rock. There is a flag system for swimming conditions which you must adhere to, remember this is the Atlantic Ocean where you may experience strong currents.
Take a look at our Puerto de Santiago photos
Places To Stay in Puerto Santiago
Puerto de Santiago Things to Do
Puerto de Santiago is ideal for families and the more mature holiday maker looking for somewhere quieter than the larger resorts in the south of Tenerife, the resort is quite relaxing and relatively quiet. There are cafes, bars and restaurants for lunch and dinner in the evenings and some small supermarkets and shops selling the usual tourist items. A short walk away is La Arena with more bars and restaurants and the very nice Playa de la Arena beach.
There is also a nice traffic free seafront promenade to walk along from Playa de Santiago heading towards Los Gigantes where there is a bar and restaurant on the ocean front.
Organised fishing and boat trips operate from the harbour with pleasure trips past the giant cliffs towards Masca. The resort has great views out towards La Gomera some 20km off the coast of Tenerife.
Hotels, Villas And Apartments In Puerto de Santiago
Puerto de Santiago Nightlife
There are plenty of bars some with live entertainment around the resort, and restaurants including tapas, pizza, Chinese, Mexican, Italian and Indian. On Calle de Hondura where the Hotel Barceló Santiago is located are more bars and restaurants including the lively Route 66 bar where there is live music every night.
Where is Puerto de Santiago?
Puerto de Santiago is located on the west coast of Tenerife in the municipality of Santiago del Teide, and is about 28 km from the resorts of Los Cristianos and Playa de las Americas.
Puerto de Santiago location is shown on our Puerto de Santiago map.
How far is Puerto de Santiago from Tenerife South airport?
The distance to Puerto de Santiago from Tenerife South Airport is approximately 43km by road, the transfer time takes about 45 minutes. The taxi fare from Tenerife South Airport to Puerto de Santiago will cost about 61 euros. The are no direct bus services from Tenerife South Airport to Puerto Santiago, however you can get there by bus from the airport if you change buses.
How To Get To Puerto de Santiago From Tenerife South Airport.
Be aware that this part of Tenerife is very hilly and may therefore not be suitable for those who have mobility problems.
Places to Stay in Puerto de Santiago