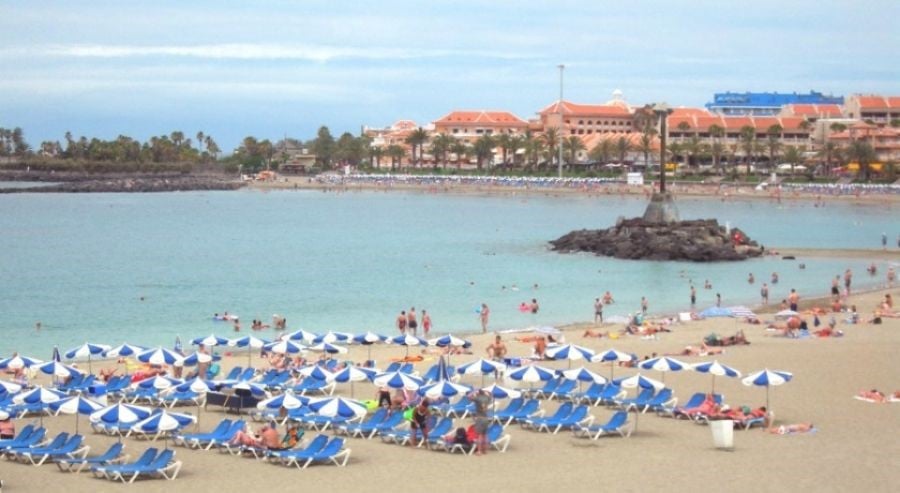 Los Cristianos was once just a poor fishing hamlet set in the barren desert-like terrain of South Tenerife. Now transformed into a popular tourist destination centred on the harbour and its beaches, while still retaining some of its Tenerife character, unlike its purpose-built neighbours.
Los Cristianos keeps thousands of holidaymakers amused, with plenty to keep the sun seeker very happy, and is all devoted to having fun. Los Cristianos an excellent beach holiday resort with all the attractions you would expect.
In the town behind the beachfront are shops selling duty-free goods and traditional craft items. There are many traffic-free alleys with souvenir shops, ice cream parlours, bars and restaurants. The suburbs around Los Cristianos are full of residential and holiday apartments and hotels.
There are hoards of restaurants offering all types of food from Italian to Chinese, Indian, International, bars offering all-day English breakfast, and also some excellent fish and seafood restaurants.
The San Telmo Center, along Las Vistas beach, has some fine eateries serving meals and tapas all day. Here you can eat and drink on terraces overlooking the beach.
It is from Los Cristianos harbour that you can take a ferry ride to the island of La Gomera, which lies 28km off the west coast of Tenerife. The trip takes about 40 minutes via the Fred Olsten high speed jetfoil, or about 1.5 hours on the ferry to the port of San Sebastian on La Gomera.
Places to Stay in Los Cristainos
Los Cristianos Beaches
Here are two very well kept sandy beaches, Playa Los Cristianos and Playa de las Vistas. Playa Los Cristianos with golden sand imported from the Sahara desert is lined with beach beds and parasols. To the north of the harbour wall, there is another superb sandy beach with an impressive offshore fountain. Playa de las Vistas, also lined with parasols and sunbeds with golden-yellow sand.
The pedestrian-only beachfront promenade is lined with an abundance of cafes, restaurants and bars, many serving excellent seafood fresh from the ocean. There are many family-friendly hotels close to the beaches of the resort.
Los Cristianos Attractions
The harbour at Los Cristianos is buzzing with water activities. You can take a ride on a pleasure boat to watch whales and dolphins, or take a trip on a Pirate Ship for a boozy trip along the coast.
You can also take deep-sea fishing trips where you can catch tuna, marlin and shark. The harbour is home to the fishing boats keeping the restaurants supplied with fresh fish and seafood.
Los Cristianos Nightlife
The centre of Los Cristianos has a real Spanish feel. Away from the two beaches, the narrow back streets and alleys around the church square are lined with local shops, bars and restaurants, with a vast choice of Spanish and international restaurants and bars to choose from.
There are plenty of cabaret bars hosting tribute acts and the like that close around midnight, but the bars around San Telmo Center and are open until the small hours.
The nightlife on offer in Playa de las Americas is within walking distance, or a short taxis ride.
Where is Los Cristianos
Los Cristianos is located on the south coast of Tenerife in the municipality of Arona.
How To Get To Los Cristainos From Tenerife South Airport
Tenerife South Airport to Los Cristianos Transfer Times
The distance from Tenerife South Airport to Los Cristianos is approximately 18km by road that takes about 20 minutes. The taxi fare from Tenerife south airport to Los Cristianos is about 32 Euros. Bus services from Tenerife Sur airport to Los Cristianos are bus route 111 and route 343
Places to Stay in Los Critianos