Convento de San Francisco
The Convent de San Francisco on the Plaza Glorieta de San Francisco is a former convent that now houses various exhibitions, one being a very interesting account of the 1706 volcanic eruption that partially destroyed Garachico. This exhibition is displayed in Spanish so you may need you phrase book to help with the translation but the picture displays are very good at visually explaining the event.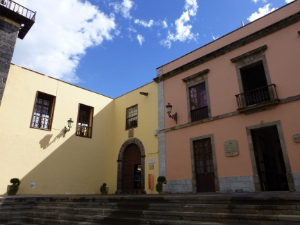 Convento de San Francisco Garachico Tenerife
Iglesia de Santa Ana
Garachico's church that was rebuilt between 1714 and 1721 after it was mostly destroyed by the volcanic eruption of 1707.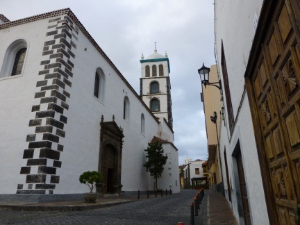 Iglesia de Santa Ana Garachico Tenerife
Castillo de San Miguel
The small castle on the sea front built to defend the old port against pirates in 1575. It houses some small exhibitions.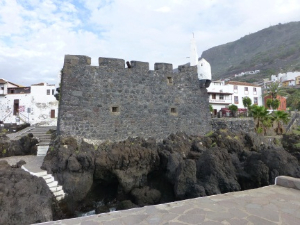 Castillo de San Miguel Garachico
Swim in the Natural Rock Pools
Swim in the natural sea rock pools that were formed by the volcanic eruption of 1702. You'll need to make sure the sea is not too rough as the sea surges in to the rock pools.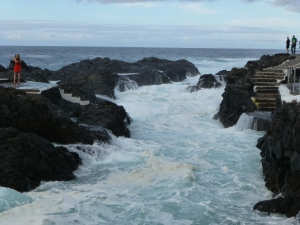 Natural Sea Pools Garachico Tenerife
Hotel La Quinta Roja
Take a look at the Hotel La Quinta Roja the 17th century mansion built by the Ponte family from Genoa in Italy, with a superb example of an Canarian court yard.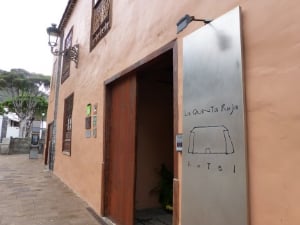 Hotel La Quinta Roja Garachico Tenerife
Walks
You can take a walk on a route that starts from Garachico up to the mountains and the volcanoes of Negro and Chinyero on a walking route known as Sendero (Trail) PR-TF 43.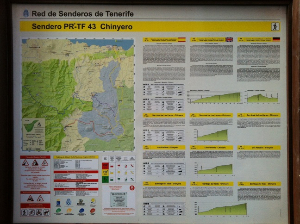 PR-TF 43 Waking Route Tenerife