Costa Adeje Tenerife Review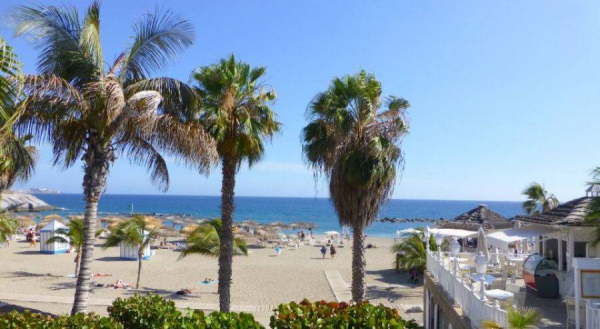 Costa Adeje is a very good resort for couples, families and beach lovers and has everything that anyone would want for a beach holiday. It is a purpose built attractive and clean resort with excellent blue flag beaches, with bars and restaurants lining the traffic free beach promenade.
Costa Adeje carries on from Playa de las Americas, but there is definitely different feel about this resort, and is now considered a resort in its own right. It is more laid back and is geared towards families and couples.
Costa Adeje has more 4 and 5 star hotels than neighbouring Playa de las Americas, and accordingly is one of the best resorts in Tenerife for families. The accommodation is mostly new, and will cost you a little more than Las Americas and Los Cristianos.
The rebranding of the area has come about due to the impression that Playa de las Americas is full of 18 – 30 bars and clubs, and all the excesses that this promotes. Tenerife is now actively trying to encourage families and couples to spend their holidays on the island.
Costa Adeje is a resort that incorporates Puerto Colón, Playa Fañabe, Torviscas, San Eugenio and Playa del Duque, often referred to as 'upmarket' as several 5* luxury hotels have been built in recent years. The resort has modern shopping centres, stylish bars, superb restaurants, and a championship golf course with clubhouse built in a Colónial style.
Costa Adeje also has its own marina at Puerto Colón, where you can go whale watching or charter a yacht. There are also many trendy bars and smart restaurants lining the marina, where you can sit overlooking the sea and marina.
Costa Adeje Nightlife
The nightlife in Costa Adeje centres on the bars and restaurants in the San Eugenio area with English, Scottish and Irish sports and some karaoke type bars. The area is for people looking for lively nightlife with bars hosting live music. There are also some international style bars scattered around the resort, and in the select Playa del Duque area of Costa Adeje there are exclusive restaurants and top-quality bars.
Is Costa Adeje lively? This really depends on where in Costa Adeje you are, the liveliest area of Costa Adeje is around the Puerto Colon area, where there are many lively bars with live entertainment and lots of restaurants. The Fanabe area also has lively bars situated on the traffic free Prominade of Playa Fanabe. Playa del Duque is much more sophisticated with upmarket restaurants and bars around the 5 star hotels in the area.
Costa Adeje Attractions
There is plenty to keep the kids happy here, wonderful sheltered beaches, waters parks and kid's parks. Also there are plenty of bars, restaurants, and shops. Casinos, spas, boat trips, diving and fiestas are all in the area to keep most people busy.
Tenerife's biggest tourist attraction is located in Coasta Adeje, the fabulous 'Siam Park' Thailand themed water park, with white knuckle and leisurely water rides, beaches and wave machines. Another water park, Aqualand, is located next to Siam Park which also has water rides and a dolphin show.
There is also an 18 hole championship golf course at Golf Costa Adeje.
Costa Adeje Beaches
The resort also has some great spotless blue flag beaches, with palm trees, clear waters,  plenty of sun beds with parasols, and promenades lined with bars and restaurants. Playa Puerto Colón by the marina is the smallest beach, with blue flag Playa Fañabe and Playa Torviscas, which merge together into one long beach lined with a popular promenade.
Blue flag Playa del Duque is the most exclusive as it is surrounded by plush hotels and a lovely promenade with bars and restaurants. The beach also has sunbeds and parasols for hire. The beaches are sheltered by breakwaters, making swimming safe and free of strong currents. Facilities at the beaches include toilets, showers and lifeguards. See our photos of all Coata Adeje beaches.
Where is Costa Adeje?
Costa Adeje is located in the south of Tenerife, on the coast, about 3km from the resort Plays de las Americas. You can see where the resort is located on the Costa Adeje map shown by the marker.
Tenerife South Airport to Costa Adeje Transfer Times
The distance from Tenerife Reina Sophia Airport to Costa Adeje is approximately 19km by road that takes about 20 minutes. The taxi fare from Tenerife south airport to Costa Adeje will cost about 34 Euros. The bus route 111 from Tenerife south airport will take you to the bus station at Costa Adeje. How To Get To Costa Adeje From Tenerife South Airport
Costa Adeje Deals
See all the latest great Costa Adeje accommodation deals below.
Additional Info
Airport Transfer Time:

20 minutes by car

Distance from Airport:

19 km

Direct bus from airport:

Bus 111 to Playa de las Americas

Taxi fare from airport:

€35

Holiday Type:

Beach resort for families and couples of all ages

Beach:

Safe sandy Blue Flag beaches  at Playa del Duque, Playa Fanabe and Playa Torviscas.

Region:

South Tenerife

Nightlife:

Bars, cafes and some high quality restuarants in the Duque area of the resort

Shopping:

Costa Adeje offers upmarket shopping in boutiques and in the Plaza del Duque shopping centre where there is a nice open air cocktail bar.

Tenerife Resorts:

More Tenerife Resort Reviews
Exclusive Hotels in Costa Adeje
All About South Tenerife

Until the 1960's South Tenerife was for the most part deserted. Then tourism arrived, the potential was fully exploited, and mass development has continued ever…

>
Find out more