Monday, 22 July 2013 17:30
The Second Fest Costa San Miguel in Golf de Sur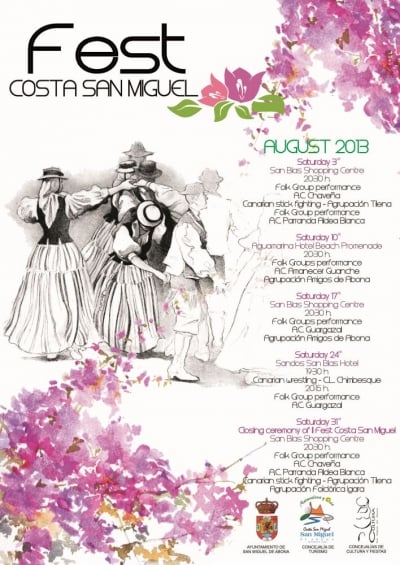 This year the second 'Fest Costa San Miguel' will be held in Golf del Sur with events being held on every Saturday throughout the month of August. These events will be at different venues in the resort Golf de Sur and are being organised by the Department of Tourism of the municipality of San Miguel.

The festival will showcase some traditions of the area to tourists and visitors through folklore and traditional games.

The planned entertainment includes live folk music performed by local musicians, traditional Canarian sports including Canarian stick fighting and Canarian wrestling.

The venues are San Blas Shopping Centre on Saturday 3rd, Saturday 17th, Saturday 24th and Saturday 31st August, the Aguamarina Hotel beach promenade on Saturday 17th, and the Sandos San Blas Hotel on Saturday 24th August. All the events start at 20:30hrs, except the one at Sandos San Blas hotel which starts at 19:30hrs.

If you are staying in Golf del Sur or Amarilla Golf in August it will be well worth taking a look at these shows as it should be very entertaining.

This article was by written Peter Allan
Peter fist visited Tenerife in 1982 staying in Puerto de la Cruz, and is now a habitual visitor to the island having become fascinated by its diversity, spending in excess of 8 weeks a year there. He has travelled all around the island staying in the lesser known resorts and towns, and has a particular interest in the history of Tenerife.
Latest from Peter Allan