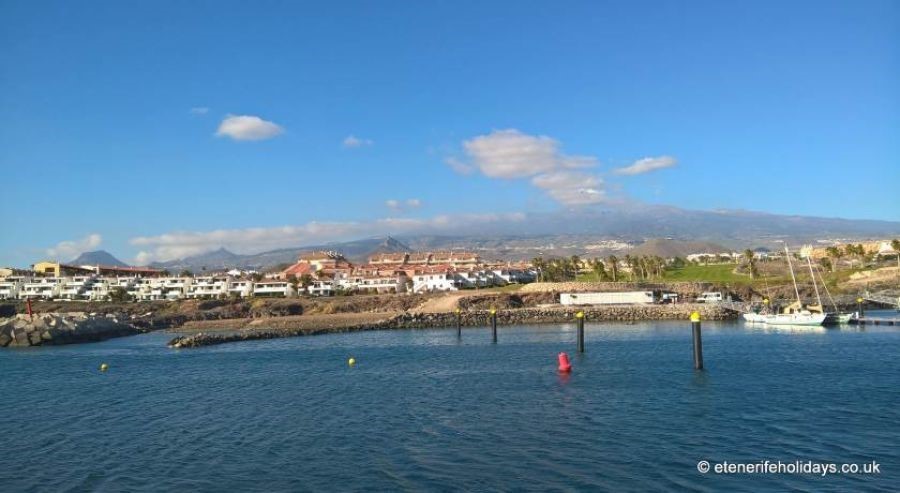 Amarilla Golf is a small resort that has to all intense and purposes merged with its neighbour Golf del Sur. Known collectively as "The Golf", is scattered around a superb 18-hole golf course beside the Ocean. The resort is mainly residential low rise apartments and villas with ex-pat residents; with only a couple of hotel complexes at the Fairways Club and the Amarilla Golf and Country Club House.
There is some noise from low flying aircraft due to its proximity to the airport, mainly landing rather than taking off. The approach flight path crosses the northern part of the resort.
Amarilla Golf Nightlife
Amarilla Golf nightlife is very low key, with a handful of bars scattered around the resort where you can get a drink and enjoy some food. A couple of bars also have musical entertainment in the evening with live music and karaoke, that sort of thing. Walk to Golf del Sur where a bit more is going on, although by the standards of some of the other resorts on Tenerife this is also very quiet.
If you are looking to get away from the crowds but still want to go out for a meal or a pleasant drink, this area may suit you. Bars are offering live entertainment on the Golf del Sur side, but if you are expecting lively bars and club scene you won't discover it here.
You can read a bit more about the nightlife in Amarilla Golf here.
Amarilla Golf Attractions
This area is ideal for golfers. You have two of the best golf courses on Tenerife and the whole of the Canary Islands on your doorstep. The Amarilla Golf Course offers an 18 hole championship course, 9 hole pitch and putt, golf pro shop, driving range, café bar. The clubhouse too offers meals and drinks and also enjoys a swimming pool.
The resort has minimal facilities, but there are some pleasant bars and restaurants around the area, but there is no centre to speak of. The San Miguel Marina is the home to some lovely yachts and a submarine. Here are a couple of bars where you can enjoy a peaceful drink by the boats. The 'Bar La Torre' at the Marina entrance, on the roof of the marina control tower, is an excellent place to sit with a drink and enjoy the sunset.
Places to Stay in Amarilla Golf
Amarilla Golf Beaches
There are no beaches to speak of, only a small black sand and pebble beach by the Aguamarina complex. Consequently, beach lovers will need to go somewhere else, although most of the apartment complexes do have their own swimming pools.
Tenerife South Airport to Amarilla Golf Transfer Times
The distance from Tenerife South Airport to Amarilla Golf is approximately 9km by road, that takes about 15 minutes. The taxi fare from the airport will cost about 25 euros. There are no direct bus services from Tenerife airport to Amarilla Golf, although you can get very close by catching a bus to Golf del Sur.
How To Get To Amarilla Golf From Tenerife South Airport
Amarilla Golf Bus Services
No bus services operate directly from Amarilla Golf. However you can catch a bus a short walk away in Golf del Sur, this map shows you where the bus stops are near to Amarilla Golf. Click on the route numbers on the list below for the time tables of buses from Amarilla Golf.
Granadilla
San Isidro
El Medano
Los Abrigos
Golf del Sur
Las Gallatas
Los Cristianos
Costa Adeje
Los Cristianos
Golf del Sur
Los Abrigos
El Medano
Tip: If you are panning to catch a bus from Amarilla Golf to Los Cristianos, the journey on the 483 is much faster than the 470. The 470 takes a much longer route around the towns.
Where is Amarilla Golf
Amarilla Golf is located on the south coast of Tenerife in the municipality of San Miguel de Abona as shown on the Amarilla Golf map. It is about 16km by road from the resorts of Los Cristianos and Playa de las Americas, which takes about 25 minutes by road, a taxi will cost approx. 25 – 30 euros
Places to Stay in Amarilla Golf