Monday, 13 August 2012 09:46
Puerto de la Cruz Night Life Review
Puerto de la Cruz night life centres around the cafés and restaurants of the various districts of Puerto de la Cruz. Some of the restaurants on the sea front in the new town have live entertainment in the form of singers with electric pianos, Spanish dancers etc. The promenade and old town of Puerto de la Cruz are thronging with people at night, and there are many street entertainers and African street traders selling their wares.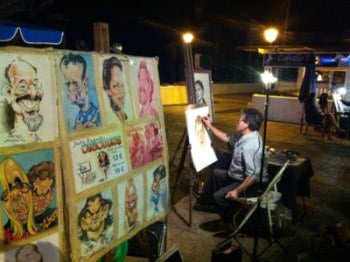 Restaurants are scattered all over the resort, the cafes and restaurants line the promenade on the seafront of the new town from the east of the resort along the promenade to the San Telmo area. This then turns into the old town, with historic buildings and some great tapas bars and restaurants.
In the streets behind the main tourist ones are various small restaurants and tapas bars often run by South American immigrants, where they offer wonderful food from their own counties. You should venture off the main tourist streets at the back as there are some really good and different restaurants.
Night clubs are of the Latino variety, and are not as evident as they are in the south Tenerife resorts. The clubs in Puerto de la Cruz come alive late at night, often not getting going until about 1-2 in the morning.
The resort is suited to the mature end of the holiday market, and is very popular with tourists from mainland Spain with cafes and restaurants the prominent evening activity. Younger visitors looking for crazy nights out may find a lack of variety with no noisy boozy bars or clubs.
There is also the area of La Paz which has its own areas containing bars and restaurants; these are quieter with the occasional entertainer such as a singer. This area of Puerto de la Cruz is quite a way from the sea front and up some steep hills, and is very low key.