Santa Cruz Carnaval 2013 Gets Underway
The Tenerife carnival gets started tonight with the opening ceremony and a show in the Plaza de Espania, Santa Cruz. The show will give a first glimpse of the contestants for the Carnival Queen competition and to decide the order of appearance in the contests. The competition starts with 14 hopeful contestants, from which the carnival Queen will be chosen and four bridesmaids.
Althought the main events are the Carnival Queen Parade and fancy dress parades the featival actually goes on for a month.
The Santa Cruz Canaval is the largest carnival on Tenerife, it is also regarded as the second largest carnival in the world second only to the Rio de Janeiro Canaval.

Tonight here will also be some of the singing and dance groups performing. The event begins at 8.30pm for which the organisers are expecting big crowds.

This year's theme is 'Bollywood'.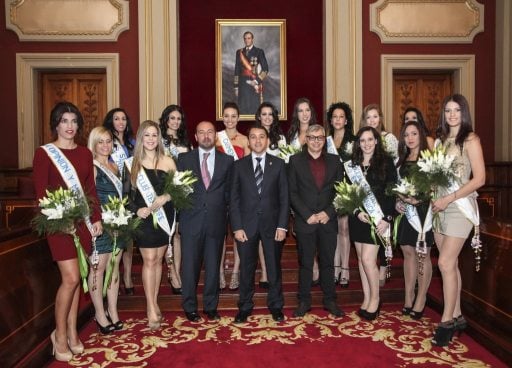 The Mayor with Councillor of Fiestas and the director of the show with the 14 Carnaval Queen contestants
Latest from Peter Allan