Out of all the Canary Islands Gran Canaria has the largest gay scene. The Island of Tenerife is now promoting more venues and beaches, for the gay scene. It is beginning to catch up with Gran Canaria.
There are some nice gay bars in the South of Tenerife, these are all in Playa de las Americas. There are various bars in the Salytien commercial shopping centre on the seafront. The bars are not always easy to find but the shopping centre is not large. The clientele for these bars is a mix of Spanish, European and English. Nightlife for the gay scene does not start to liven up until after 11pm.
For Chaplin's bar you go down a few stairs, Chaplin's has two entrances and sometimes only one entrance will be open. This bar is popular and stays open until the early hours of the morning. There are private cabins, some evenings there is a drag cabaret.
Playa Flor bar and terrace is a great place to start your evening. It is part of the Playaflor apartment complex which is exclusively gay. The bar is decorated in Moroccon style, and has a large terrace. If you just want to take it easy, Playaflor is a good place to stay. You can sunbath around a nice size pool, and with the South's good climate this makes a relaxing holiday.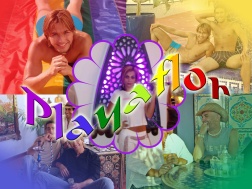 The town that has the most gay clubs and bars is Puerto de la Cruz in the North of Tenerife. Puerto de la Cruz offers a colourful range of entertainment for the gay scene. There are discos, bars, restaurants, and the town even has a sex shop for those holiday essentials. Every year there is a parade this has a lively party atmosphere, and the high heels dash is for drag queens only. Vampis is a popular gay club, it also attracts open minded people, and there is a drag show around 2am.
Puerto de la Cruz has its own parade this is around the time of the main Carnival in Santa Cruz mid-February. The main event of this yearly parade is the High Heels dash for drag queens only. Contestants turn up in outrageous costumes, and the heels are measured with some as high as stilts. The contestants race around an obstacle course. This event is around 16th- 25th February and has a good party atmosphere.
There are a number of Nude beaches in Tenerife, and there is usually a gay/cruising area. There is a small pebbly beach in Los Cristianos at the far end of the resort. The beach area in front of the above mentioned Salytien shopping centre in Las Americas attracts a lot of cruising. Also in this area there is a beach called Bora Bora, and this is popular for evening cruising. There is a large beautiful sandy nudist beach at El Medano. The beach is nice so does attract families as well, however there are sand dunes around so some privacy can be obtained. El Medano is in the South and famous for the windsurfing.
The Water Park Lago Martinez in Puerto de la Cruz offers a gay area, and this is to the left as you walk into the park. Puerto de la Cruz and Santa Cruz have gay saunas.
One event that must go on Tenerife's gay calendar is the Santa Cruz Carnival, it is second in the world to the Rio de Janeirro Carnival in Brazil. The main Carnival is in the capital of the Island Santa Cruz, Feb-March time. The Carnival is loud, colourful, with stunning girls and guys dressed in elaborate costumes. Lots of glamour is all put into this entertaining show.
If you decide to have a holiday around carnival time, the hotels in Santa Cruz get booked up early, so plan well ahead. There are gay friendly hotels throughout the Island. Which leaves us to say have a good holiday from etenerifeholidays.co.uk