Most of us visit Tenerife and confine ourselves to the south eastern corner round the popular resort of Playa de las Americas, where there are several nice sandy beaches.
Tenerife's natural beaches are mostly made of black volcanic sand and rocks due to the islands volcanic origins. But there is a one superb beach on Tenerife that is not often visited by the millions of tourists visiting the island every year.
The Las Teresitas beach is located just north of the islands capital Santa Cruz, and is a mile long stretch of golden sand set in a sheltered cove beneath the Anaga Mountains, about an hours drive from the southern resorts. The waters are shallow and protected by an artificial reef and are ideal for swimming in.
Las Teresitas beach is lined with palm trees and has refreshment kiosks and there are no hotels and apartment block spoiling the view.
The beach can get very busy at the weekends when the inhabitants of Santa Cruz flock to the beach, especially in the summer months, when the car park gets full and the buses are packed with the locals.
Visiting the beach during the week is much quieter when you will easily find a spot in the sun and a place to park your car.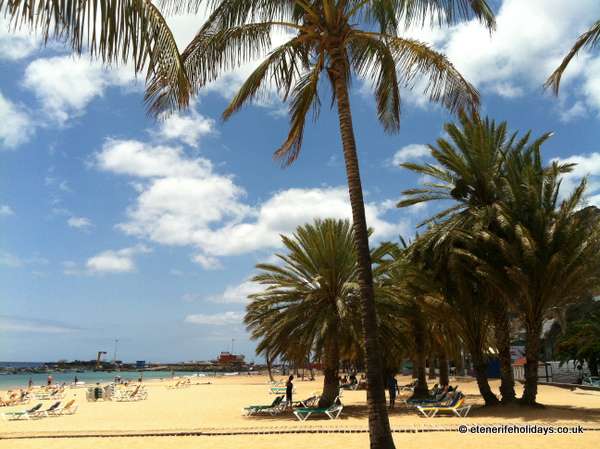 Close by is the old fishing village of San Andrés, where you can take a stroll and have lunch in one of the many fish restaurants.
In 1797, the then Vice Admiral Nelson also landed close to this spot in a failed attempt by the British to take Tenerife from the Spanish at The Battle of Santa Cruz de Tenerife 1797, when he was also shot in his right arm and had it amputated.
Getting There
A day out to this beach is well worth the effort. If you are driving take the TF1 motorway to Santa Cruz and follow the signs to San Andrés and Las Teresitas. You can take the 111 bus from Las Americas and Los Cristianos to Santa Cruz, and then change here and catch the 910 to Las Teresitas. See the map for driving directions and bus journey to Playa de las Teresitas from Los Cristianos and Playa de las Americas.