If you are on Tenerife on Sunday 3rd November you are in for a rare treat. There will be a 40% partial solar eclipse over the island starting at proximately midday, lasting through to about 14:30 peaking at 13:10.
A great place to observe the eclipse is from the Las Cañadas Caldera, so you could make this a day to go and visit Mount Teide.

Partial Solar Eclipse
A total solar eclipse will track across the Atlantic Ocean making land fall at Gabon and then crossing Africa through the counties of Republic of Congo, DR Congo, Uganda, South Sudan and Ethiopia.
A partial eclipse will be seen from southern Europe including Spain, southern Italy, Greece and Turkey. The eclipse is not visible from anywhere in the UK.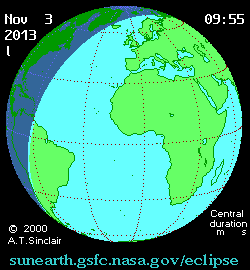 Solar Eclipse 3 Nov 2013
This eclipse is the fifth and final one of 2013 and is an interesting one as it is a rare hybrid eclipse, where there is annular and a total eclipse. This is the only eclipse event of 2013 that includes a total eclipse.
Only 569 eclipses of the 11,898 listed over a 5,000 year span from 1999BC to 3000AD are of the hybrid type, making this one of the 4.8% hybrid solar eclipses.
It goes without saying that you should not look directly at the sun without special glass, never use binoculars or a telescope to observe the sun and always observe solar safety. Observing the sun with the naked eye can cause permanent eye damage.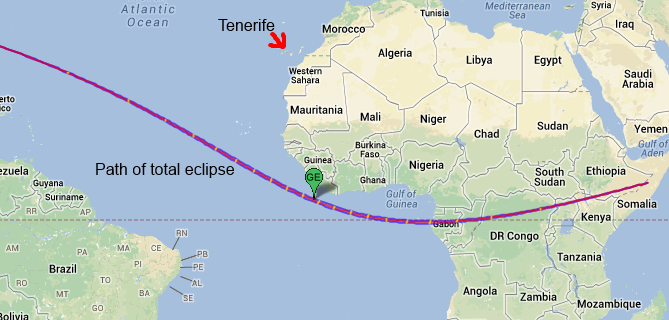 Tenerife Solar Eclipse Map