We'll, this year we spent our New Year's Eve in Santa Cruz de Tenerife to celebrate with the locals, and what fun it was. We spent the build-up to the midnight hour the Hotel Gran Mencey, which is Santa Cruz's premier hotel and the only 5* in the city, and saw in the new year there.
Then it was on to the Plaza de Españia, where Santa Cruz lays on an open air street party from midnight to 6am, where the locals gather to dance the night away. We left the hotel at about 1:30 am to join them and found the party in full swing, with everyone dancing to the sound of Latino music.
Some revellers arrived dressed in tuxedos and shimmering dresses after being to private parties. Others turned up in winter woollies, but most of the young ladies wore as little as possible in their very short dresses.
Mobile drink bars and food vans kept everyone fed and watered with alcohol. Noticeable was the absence of police, which left me thinking about such an event the UK with everyone drinking heavily. I'm sure there would have been hundreds of officers in high visibility jackets all over the place. Here I didn't see even one, and we saw no signs of trouble ourselves, just everyone enjoying the night.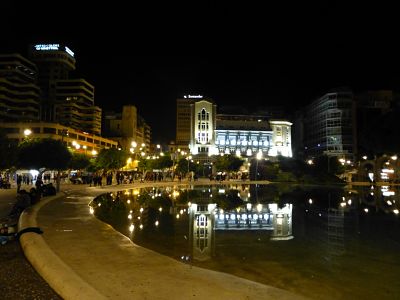 Plaza de Espania New Years Eve
The crowds were heaving around the temporary stage built especially for the night, where bands performed and the DJ took over in between sets. We opted for the less busy area around the lake in the Plaza itself, where we sat and had drinks on a small bar patio overlooking the lake.
As lightweights we left to go back to our hotel about 3am, and left the Tenerifos to their street party. As we left locals were still coming in to the party, and presumably stayed until the end at 6am.
Our hotel was very quiet by the time we returned, and it seemed everyone had gone to bed, or maybe they had gone to the party in the Plaza de Espania we had just left.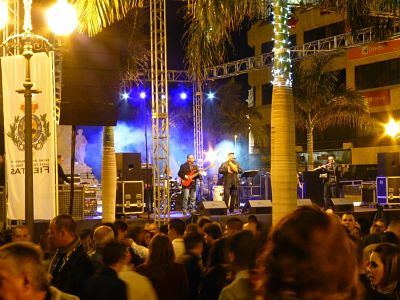 New Years Eve Santa Cruz de Tenerife