Well, we're really gearing up now for our winter tour of Tenerife and have just booked our hotel for the first 3 nights. We have decided to start our trip in Costa Adeje, mainly because our flight gets into Tenerife faily late, and as we will be using the bus service so we don't want to be going to far from the airport.
The hotel we have chosen is the 4 star Jardin Tropical as it looks quite good and was resonable price. As we are not really on holiday and need to get to know the area a bit more for our web site about tenerife so we didn't need to go luxury, as it would be a bit of a waste anyway as we won't be make full use of the hotel.
Anyway, we are really looking forward to this trip and will be getting around the island a bit.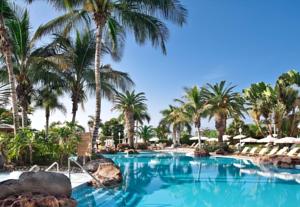 Hotel Jardin Tropical Pool