The Canary Islands are all volcanic in origin including Tenerife and are constantly evolving over millennia. This evolution is due to volcanic activity and erosion by sea and wind. The last volcanic activity on Tenerife was in 1909 from the El Chinyero vent and lasted for 9 days.
The most dramatic volcanic event on the island in recent history was in 1706 when the Negra volcano erupted and destroyed the then capital of Tenerife, Garachico. The town was also the main port for the island at this time, but the eruption put an end to this and the port moved to Puerto de la Cruz.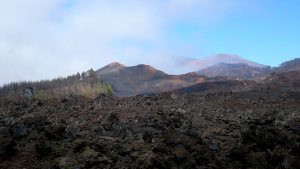 El Chinyero Volcano
It has also been suggested a Tenerife volcano system eruption was witnesses by Columbus, but there is no geological evidence of an eruption at this time. It is now thought more likely to be gas emissions that he witnessed, where magma fills a chamber and gas is forced up through the vents.
This type of event also happened in 2004 when there were some seismic events on the island and some experts were getting concerned that Mount Tiede was stirring from its dormant state. Gasses could be observed being emitted from the Tiede summit, there were also some earth quakes detected around this time between 2003 and 2005.