Whilst staying at the Buenavista Vincci Hotel here on Tenerife, we found a special place by the seafront that we could walk to in around twenty minutes. The coastline here is very rugged, and unspoilt. There is a walk right along the front; you need to watch out though, as when the waves crash onto the rocks the spray is as high as a lamp post.
You get a bit damp as the air is moist with the sea spray. We could not stop taking photos and video of the waves and spray. What makes this show spectacular are the colours of the sea, those turquoises, and blue-green colours that tell you this is not the English Channel.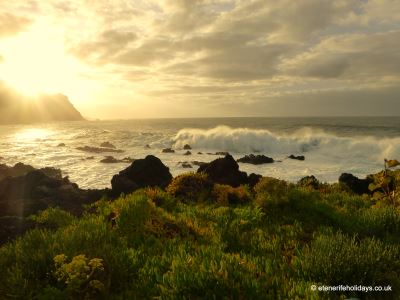 Sunset, Buenavista del Norte, Tenerife
Near to the walk there is a restaurant right on the front, busy with people who are wrapped up nice and warm, sitting outside having lunch, whilst watching the waves and spray. We had lunch here, and ordered one of our favourite dishes, Garlic prawns with a "Plato" of tuna salad, warm bread rolls, and house wine. Delicious, we are in a proper Spanish village, so its good Canarian food, and at a noticeably lower price than the south.When we ordered we told the waitress we would "compartir" the dishes, this is one of our new Spanish words we have learnt and means 'share'. However, when it comes to dessert and cakes, I'm not saying it!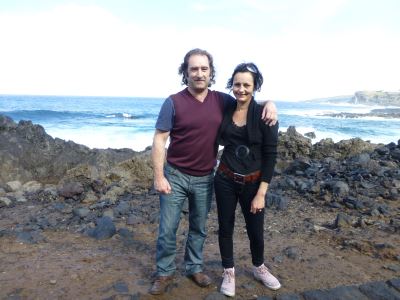 Jane and Pete, Buenavista del Norte, Tenerife